Disclosure :Sleepwithcomfort is reader-supported. When you buy through links on our site, we may earn an affiliate commission.
Introduction
When you know that a new life is coming, you might spend a lot of time setting up a nursery for your unborn child. It requires you to decide on various topics, from the paint color to the diaper storage placement. In addition to such design concepts, you'll also have some options to choose from when it comes to the crib, which is the place where your newborn baby will stay for a long time. Another question will comes to your mind is, "What is a standard size crib mattress?".
Not only is selecting a crib and the appropriate size of mattress for the crib necessary for the overall decor of your nursery, but it is also essential for your child's well-being. You can make a decent choice for your new baby if you read this article, which describes the many types of cribs and the sizes of crib mattresses that correlate with each type of crib.
Read our article on How to prop a crib mattress
What is a standard size crib mattress 2023?
When you imagine your baby's nursery, you probably picture a certain wall color, a chic crib, and a cushy rocking chair or glider. Even while the crib is the focal point of the nursery, the mattress is where your baby will spend the most of his or her time there, so it's important to choose wisely to ensure your child's comfort and safety.
Standards for Baby Cribs and Mattresses as per Federal Regulations
The Typical Dimensions of a Baby Crib and Its Mattress
The United States government decides on the most appropriate dimensions for infant cribs and mattresses. The CPSC (Consumer Product Safety Commission) directed that all full-size baby crib mattresses have a minimum width of 27-1/4 and a maximum length of 51-1/4. Additionally, the CPSC stipulates that the mattress's maximum depth cannot exceed six inches. However, the average size of a crib is not as easy to determine.
Also read How to ship a mattress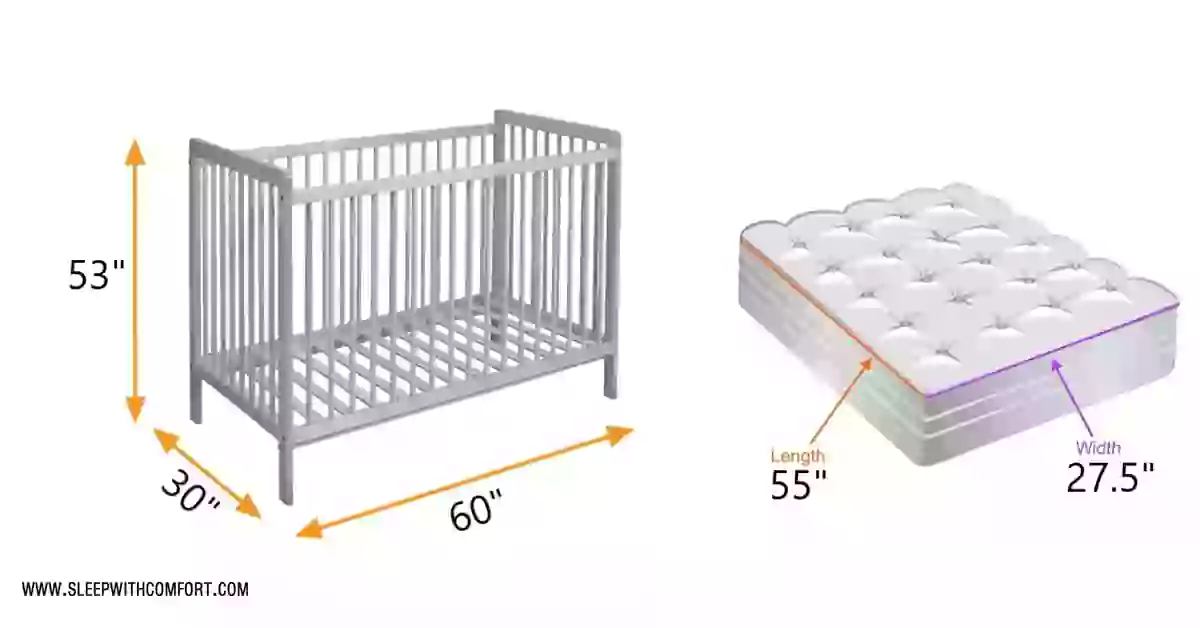 The Standard Measurements of a Baby Crib
Full-size infant cribs are required by the Consumer Product Safety Commission (CPSC) to have an average width of 28 inches and a height of 52-3/8 inches, but they must also have a "+ element" of 5/8 inches. Because of these differences, checking the suggested mattress size is essential. You should include it in the packaging of the crib and in the directions for putting it together.
It is now much simpler to acquire products appropriate for your child's bedroom because all Serta and Beautyrest crib mattresses and Delta Children cribs are compatible with one another.
Types of cribs
Now that you are aware of the typical crib kinds and crib mattress sizes, let's learn more about the different sorts of cribs.
Normal Cribs
The standard-sized crib mattress is one of the most widely used crib options. Why? owing to its size. It is substantial, and your child won't outgrow it anytime soon. They are rectangular and a great option for toddlers as well.
The recommended thickness for a crib mattress is six inches, and the normal size is 27 by 51 inches. The ideal thickness size is 6 inches; anything over that can cause unintentional falls. Toddlers may struggle to maintain their balance when standing on thick mattresses.
Small Cribs
Since the size is not standardized and might vary significantly between brands, tiny cribs are typically sold with mini crib mattresses. The dimensions are roughly 24 x 38 inches. This is a fantastic option, particularly if the nursery is small. There are a few cribs that can be folded and stored simply for when you are travelling.
Different shapes cribs
Oval, hexagonal, and round are the standard shapes. You might choose shaped cribs since they are distinctive and make the room look fancier. Because the sizes of the shaped cribs are not standardized, they vary from brand to brand. Additionally, the crib and mattress are sold collectively.
Must read How to Cut a Memory Foam Mattress
What you should search for in a mattress for a full-size crib?
After a description about "what size is a standard crib mattress?", you should next consider what you should search for in a mattress for a full-size crib. The following are important things you may keep in mind:
How a baby's mattress should fit inside of a Crib?
It is advised that crib mattresses fit within the crib either very snugly or fairly snugly. The acceptable distance between the side of the mattress and the crib's frame is no more than two fingers. If the mattress doesn't fit well, it's more likely that a baby will suffocate or get stuck in the crib.
How Firm a mattress should be for a baby Crib?
When you know "what size is a standard crib mattress," you should also know about the firmness of a mattress for a baby crib. Regarding the firmer the baby crib mattresses are, the better. The suffocation risk and Sudden Infant Death Syndrome (SIDS) for your infant increase when exposed to soft surfaces. You can determine the firmness of a mattress by pressing on both its center and edges. When you let off the pressure, it should spring back into place immediately.
The importance of using a firm mattress for a baby crib
You can choose a mattress that will give you the most restful sleep. However, for a baby, the mattress is much more than just a place to sleep; instead, it serves as the infant's primary hub for growth and development. To ensure that they make the most of the time spent sleeping, an infant should have a surface that is firm, flat, and even. The baby moves around more in their crib, which becomes especially crucial. As babies begin to push themselves up, turn, and eventually stand in the crib, they require resistance that a firm surface can only provide. A firm mattress base can provide resistance for developing and strengthening muscles. Where it was necessary to understand "what size is a standard crib mattress," it is also essential to know the firm types of mattresses.
Crib mattresses with inner springs
The fact that innerspring coils are formed of steel and are heat-tempered makes it possible for the coils to regain their original shape quickly. The number of coils in an innerspring mattress found in a crib mattress will begin at 80 and rapidly climb too far over 200. When the number of coils increases, the coils are packed more closely together, with fewer spaces between each coil. This contributes to the formation of an overall firmer surface.
Because steel coils are built to last a lifetime, innerspring coil types are prevalent. You can locate innerspring coils of good quality in many crib mattress types, ranging from budget-friendly crib mattresses to high-end crib mattresses with updated features. The inside core and cushion of a coil crib mattress will determine the total weight of the mattress, which can range anywhere from 10 to 20 pounds. When purchasing an innerspring coil mattress, you should know "what size is a standard crib mattress," you required.
Foam mattresses crib
High-density polyurethane foam is used to manufacture most of the foam used in crib mattresses today. Find a foam core with a density of at least 1.5 pounds per cubic foot. There are also improved versions of polyurethane foam that are produced by including a certain amount of natural soybean or plant oils in their composition.
Other types of crib mattresses made entirely of foam include polyethylene cores, which can weigh as little as 5 or 6 pounds and can be found in some models. Look for models with thermo-bonded polyester cores, which are lightweight and suitable for usage over a short period. These models are also more affordably priced.
The average weight of a foam crib mattress is between 8 and 13 pounds, which makes them simple to move about and convenient for changing the sheets and pads on the mattress. A softer material, such as cool gel foam or memory foam, will be used on the toddler side of two-stage foam crib mattresses.
Now you can understand the firmness levels of a mattress after knowing "what size is a standard crib mattress."
Cushioning mattress crib
The cushioning in crib mattresses provides your child comfort, firmness, and in some cases, even a cooling effect. Inside crib mattresses, the most common materials utilized include memory foam, polyester, cotton, organic cotton, and other forms of hypoallergenic cushioning. Newer developments such as soybean cool gel foam are also becoming more common.
A wide range of stiffness is available in these various sorts of materials. Coconut coir and inferior orthopads were once standard components of infant mattresses, but those components are no longer found in the vast majority of crib mattresses sold now. Instead, crib mattresses take advantage of some of the most recent advancements in sleep technology to provide newborns and toddlers with varying degrees of firmness and comfort.
Conclusion:
Finally, you are well aware of "what size is a standard crib mattress," the many types of crib mattresses, and the degrees of firmness they offer. Your infant will devote significant time to sleeping in their crib during his first year. Check that the crib you pick is secure and complies with all CPSC rules before purchasing it. Make it a point to avoid using a crib that is more than ten years old.
There are many options available for crib mattresses. Your infant's safety should be your primary consideration when selecting a mattress for their crib. After all, this is the one location where you won't be able to keep an eye on your child for an extended period of time.