Disclosure :Sleepwithcomfort is reader-supported. When you buy through links on our site, we may earn an affiliate commission.
Are you suffering from sleep apnea?
If yes, then you might be dreaming of getting rid of uncomfortable sleepless nights. No doubt, CPAP is an effective treatment for people who struggle with sleep apnea.
However, In the night times, due to uncomfortable pillows and needing to adjust the mask, again and again, the patient might miss the comfortable sleeping nights he had once. But, don't you worry as you are about to get the most beautiful and comfortable sleep. Only you have to choose the right pillow for yourself, and all discomfort will be gone.
So, wondering how you will know which one is the best pillow for CPAP users? No problem at all, as we have a list of the best pillow for CPAP users. Going through our list, you will find the perfect pillow for you in a short time.
How to Choose a Best Pillow For CPAP in 2022?
There are thousands of pillows available in the market for CPAP users. Ultimately with a good range of choices, it becomes hard to choose the right CPAP pillow.
Every individual with sleep apnea has different preferences. Some sleep on their stomach, few are side sleepers, so the requirements vary for each individual.
However, we have given the list of 5 best pillows for CPAP users, but now we will let you know how to select the right pillow for you and what factor you better consider while purchasing a pillow if you are a CPAP user.
LIST OF BEST PILLOW FOR CPAP USERS:
Following is the list of best pillow for CPAP users.
1) Contour Products CPAPMax 2.0 CPAP Bed Pillow
2) VISCO LOVE Celliant Sleep Therapeutic Wellness Pillow
3) FitPlus Premium Wedge Pillow
4) TEMPUR-Neck Pillow
5) Coop Home Goods Adjustable Loft Bamboo Cooling Pillow
1) Contour Products CPAPMax 2.0 CPAP Bed Pillow:
Choosing CPAMax 2.0 products is similar to finding the ideal pillow for yourself.. The pillow is good in many ways. The good news is that it will work with any type of mask, brand, or CPAP machine..
The pillow makes you sleep without any discomfort as it just sways away your worries. The pillow has different sides so that you may adjust your preferences accordingly. The memory foam on one side is breathable and 3D mesh, whereas the other has a soft and fibre-filled layer.
The pillow is a good choice for people that suffer from sleep apnea as you can keep on your mask throughout the night without any hindrance. What makes it more valuable is its adjustable layers. There are flexible layers on this pillow, ranging from 2 4 to 5 3 inches. So you can modify everything according to your comfort zone.
WHY SHOULD YOU PREFER THIS PILLOW?
We have made Contour Products CPAMAx 2.0 pillow our premium choice as the best pillow for CPAP users because it allows modification for better comfort. Most users can purchase this pillow without a second thought because it meets most of the requirements. It's a recommended item for all sleep postures and is a must-have for side sleepers.
You may also like to read;Best pillow for side sleepers
Our experience with this product
Our experience with Contour CPAPMax 2.0 CPAP Bed Pillow was outstanding. It supports the neck and back perfectly. The pillow does not put any pressure on the mask and supports the chin and forehead. Even for beginners who feel a bit uncomfortable when jumping to CPAP pillows from traditional pillows, this cushion is a perfect match for them.
Who is the manufacturer?
Contour Products, Inc. is the manufacturer of Contour CPAPMax 2.0 CPAP Bed Pillow. The company is located in the USA. The company designs products on the recommendation of doctors, therapists, and chiropractors. The company is a trusted and leading manufacturer in the industry.
2) FitPlus Premium Wedge Pillow:
Although it is not good to sleep on your back, especially when you have sleep apnea, it is hard for few people to change their sleep positions. However, the right pillow can help you with it. FitPlus Premium Wedge Pillow is here to rescue you by supporting your sleep positions so you can enjoy a deep slumber in your desired position.
The pillow uplifts your upper body when lying on your backbone. Hence, it makes gravity effortless upon your airways to aid them to stay open.
Its 1.4-inch memory foam allows you to sleep comfortably, keeping your back body in an upslope position. The fantastic design helps you to have reduced acid reflux and snoring.
Suggested Reading; Best pillow for acid reflux
Who Should Invest in This Pillow?
We chose FitPlus Premium Wedge Pillow as one of the best pillows for sleeping on our list because it's a reliable alternative for people who are hooked on sleeping on their backs and finding it difficult to change their CPAP masks.. The pillow not only supports back sleeping but also keeps the airway open and reduces snoring and acidic reflux.
Our experience with this product
According to our experience with FitPlus Premium Wedge Pillow, we recommend this pillow only for people who sleep on their back. Overall the quality of the product was outstanding, and we did not regret investing money in it.
Also, read;Best pillow for back sleepers
Who is the manufacturer?
FitPlus is the manufacturer of FitPlus Premium Wedge Pillow. The manufacturer is known for its good quality pillows.
3) VISCO LOVE Celliant Sleep Therapeutic Wellness Pillow: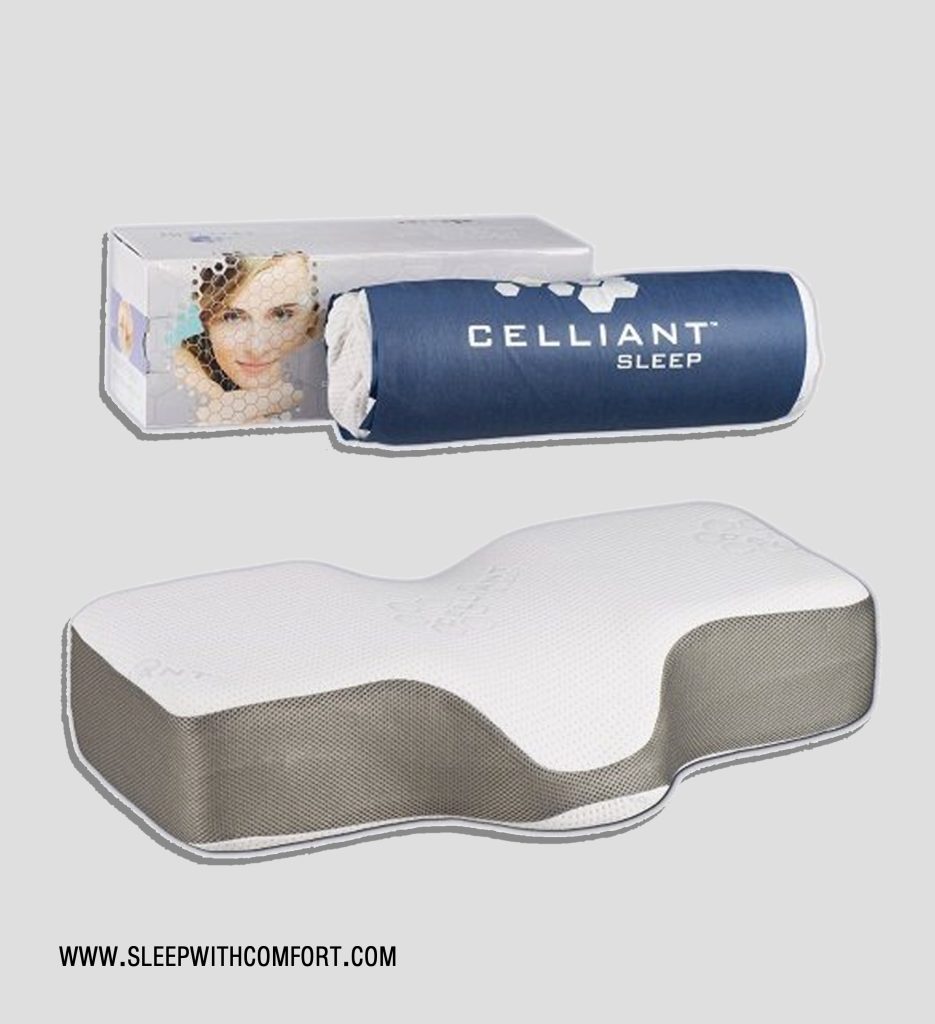 Snoring is excruciating, and we can't do anything about it. Snoring may be embarrassing, but the VISCO LOVE Sleep Therapeutic Wellness Pillow was developed to deal with airway problems and sleeping on your back..
The cushion was created with airway problems and backbone alignment in mind. The higher edges and comfortable foam allow you to sleep soundly while providing all of the CPAP users' requirements.
The back sleepers can rest comfortably thanks to the pillow. Side sleepers, on the other hand, may use both of the compressions and simply choose sides as needed for their mask compatibility. Therapeutic pillows for shoulder discomfort are a good choice. This cushion's design prevents it from compressing or flattening out, so you don't lose the support you require for various postures.
Suggested reading; Best pillow for neck pain
Who Should Invest in this Pillow?
We recommend this pillow to our audience as it is excellent for people who sleep in different positions. It is also the best pillow for shoulder pain. The airways support is the thing about this pillow. The firmness helps to maintain the shape of the pillow.
Our experience with this product:
VISCO LOVE Sleep Therapeutic Wellness Pillow did wonders for us. The pillows helped me to reduce snoring amazingly. My sleep improved, and the pillow is a definite recommendation. The only thing that might bother you is that the pillow is too stiff for a few people, but I got used to it, so it didn't bother me much.
Who is the manufacturer?
Visco Love US LLC. is the manufacturer of VISCO LOVE Sleep Therapeutic Wellness Pillow. Visco Love US LLC., recognized in 2015 for Viscoelastic memory foam bed, pillow, and therapeutic products production. VISCO LOVE US LLC. is the number 1 leading firm in terms of the choice of pillows. The company guarantees its leadership and skill in advanced production methods
4) TEMPUR-Neck Pillow:
We recommend the TEMPUR Neck Pillow to those looking for a pillow that can support all the body, especially in terms of cervical position. The groundbreaking design of the pillow and comfortable memory foam makes you have a peaceful sleep.
The neck styles are available in three sizes to suit three distinct body types. Their fitting advice will assist you in finding the best fit for your sleeping posture, physique type, and height. This function is particularly designed to keep airways open while also supporting good posture.
Although the raised edges primarily serve to support the neck, you may raise each side at a different level, depending on your comfort.. Not only this, it is a recommended pillow for shoulder pain relief. The pillow has soft foam that not only offers heath but provides uplifting and firm support. What's more appealing about this cushion is the fact that it has a soft micro-vented cover, which improves ventilation and makes breathing easy.
Who Should Invest in this Pillow?
We want you to give TEMPUR Neck Pillow a try because the pillow is firm and a good option for CPAP machine users. It can be used to support both front and rear sleeping, and you may sleep in the manner you choose without worry of rolling or pitching machine pipe..
Our experience with this pillow
It was great to have a TEMPUR Neck Pillow. The pillow helped me to get rid of the neck pain. However, the only issue I faced was that it was difficult for me to choose the right side of the pillow. Overall, it is a definite go for people who suffer from neck pain.
you may also like to read;best pillow for neck pain
Who is the manufacturer?
Tempur-Pedic is the manufacturer of TEMPUR Neck Pillow. The products of this company are high-quality and loved by the customers.
5) Coop Home Goods Adjustable Loft Bamboo Cooling Pillow: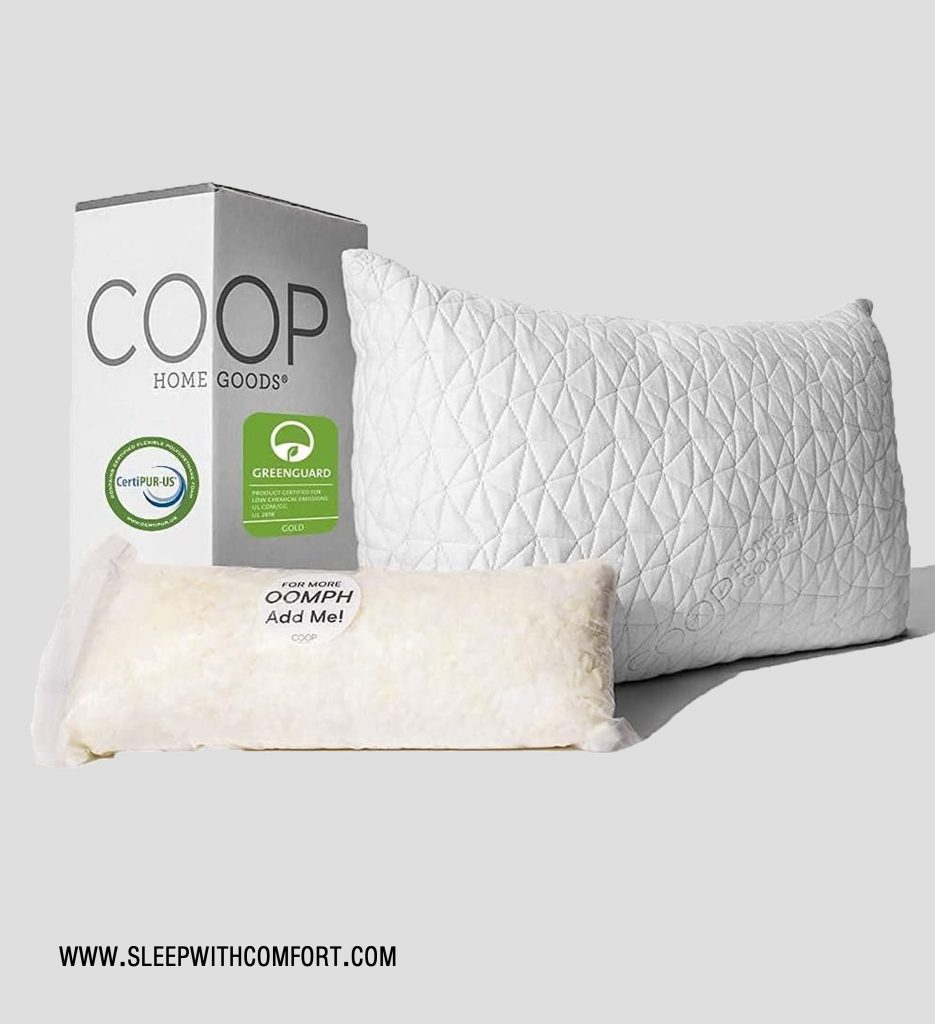 Many people can't give up on traditional pillows, but finding a pillow that is more like traditional and provides considerable support for CPAP machines can be challenging if they use CPAP machines. Still, Coop Home cooling Bamboo  Pillow is on your way to completing the challenge and having a stress-free sound sleep.
The pillow is firm but offers a soft feel. The lovely thing about its cooling and adaptable features make it an ideal support for any position.. It offers a rich sink without letting support. Furthermore, the pillow is breathable and allows you to have an excellent bedtime.
Who Should Invest in this Pillow?
For individuals who have trouble choosing the right pillow, we recommend the Coop Bamboo Cooling Pillow. The cushion can be used with a CPAP machine since it may support the equipment without disturbing the user's comfort, and what's more, it supports all sleep postures.
Our experience with this product
Using the Coop Bamboo Cooling Pillow was a cheerful bedtime. it is a soft and firm pillow. The pillow was perfect, but the one thing that troubled me was it needs daily "fluffing" to get the fluff parts to rearrange back into a full cushion shape.
Who is the manufacturer?
Coop Home Goods is the manufacturer of Coop Bamboo Cooling Pillow. The company produces the best flexible and frayed bamboo memory foam pillows made around you.
Buyer's Guide:
What should you consider When Buying a CPAP Pillow:
Many marketing terms are used when CPAP pillows are publicized. Comfort is the key feature highlighted mainly when advertising CPAP pillows. Although it depends on the preferences of the individuals, for example, one pillow might be ideal for one person, but the same pillow may not be perfect for someone else.
Now let's discuss some critical factors that you must know before you buy any pillow. Although these factors may be more or less essential for you to but after knowing these factors, we guarantee that you will understand in a much better way how to select the right pillow for you and how to make the judgments on each pillow and if the pillow will be a right fit for you or not especially if you are a beginner.
Sleeping Position:
Whenever you purchase a pillow, the first thing that you need to consider when buying is your sleeping position. For instance, you purchase an expensive and branded pillow, but if that pillow does not provide you comfort in your preferred sleeping positions, then this pillow will be just useless, and all money would be wasted. That's why you better be careful if the pillow you are considering buying will go well with your sleeping style or not.
Let me make the above statement a bit less complicated for you. If you are a side sleeper, you better look for a pillow with cutouts or curves so that it may offer space for the mask. On the other hand, if you are a person who sleeps on their back, then you better go for the cervical pillow that offers the stability and comfort you need.
Those who want pillows that fit all sleeping positions are designed differently at the top and bottom; such pillows are a good option for combination sleepers. Stomach sleepers should opt for a nasal pillow mask which is very comfortable when combined with a gel pillow.
Loft:
Aloft of the pillow denotes the height of the pillow. Although traditional pillows have only one height, that's not the case if you buy a pillow for CPAP users. Because special pillows are designed for CPAP users, these pillows have dips and curves to offer cervical sustenance or space for a CPAP mask.
The perfect pillow depends on which type of sleep position you prefer. If you are a side sleeper, you must require thicker neck support than those who sleep on their back or are stomach sleepers.
Mask Accommodation:
The other important factor you must not miss out on is to select the pillow according to the type of CPAP mask you have. For example, there are different types of CPAP masks available in the market. The bulkier your masks, the more it will require space. For instance, masks like full face and nasal models need more space.
So before you buy a CPAP pillow, make sure the cutouts or curves of the pillow will allow enough accommodation for your mask or not in regular sleeping positions.
Support:
You can find the best quality CPAP pillows that offer excellent sustenance through the cervical spine, and that's because they are designed impeccably. The materials that have been used in its manufacturing are excellent and durable.
Mainly the CPAP pillows are manufactured with memory form that offers maximum comfort plus support the neck much better than the traditional feather pillow. However, you must carefully select the cushion with the correct loft for their napping positions to have full support.
Firmness Level:
You can adjust the CPAP pillow from a medium to firm model as there are CPAP pillows available that provide the option of adjustments. Most masks require excellent cervical support, so the pillows have firmer construction compared to the ordinary pillows to provide decent cervical sustenance while accommodating a CPAP mask.
Pressure Relief:
Most people are uncomfortable. The firm does not mean the pillow will be uncomfortable, but the pillow will contour, touching the head, permitting a festive feeling with a compassionate core. CPAP pillows that have been made with memory foam give the best pressure relief via polyfoam and latex options, plus offer gentle contouring.
Shape:
You can get the CPAP pillows in different shapes in the market as they support cervical spine and give space for the mask. The different pillow shapes allow you to sleep in your preferred positions with your types of masks easily.
For instance, a back sleeper should go for pillows that offer cervical stability and deeply curved support around their neck. On the other hand, sleepers may be interested in a pillow that offers an area for their full face mask that may need thinner central support with large cutouts at the sides.
Quality Materials:
The CPAP pillows are generally made with quality materials. Most models utilized memory foam, or some use polyfoam for support. Both of these are synthetic materials. However, those who lobe naturally derived bedding materials can go for latex options. CPAP pillows that are made with high-quality material have a soft and cozy cover that is washable.
Moldability:
CPAP pillows are made in different ways; few are manufactured from shredded memory foam shaped and then accustomed for the right amount of support. However, mostly CPAP pillows are not adjusted this way, so it depends on the customer's preferences how they narrow down their choices.
Temperature Regulation:
Although mostly CPAP users prefer memory or polyfoam because they preserve heat throughout the night and provide warmness, some people find this heat uncomfortable. So to deal with it, manufacturers use different methods to approach temperature regulation by utilizing features like enhanced airflow or gel memory foam.
FAQS:
What is the finest CPAP pillow?
Choosing the correct CPAP pillow may be difficult; you must examine a number of factors when making your selection. However, no single best pillow meets all of your requirements. It's easy to become frustrated while adjusting a CPAP pillow. If you attempt to change your sleep posture in order to adjust the mask, you will undoubtedly have many sleeplessness.
Luckily, CPAP pillows are available in different varieties, and you can choose a CPAP pillow that supports your sleep position. You can also select the material of the pillow according to your desire. If you're a regular sleeper, consider purchasing breathable cushions or having them cooled. Body pillows are also available for CPAP users who suffer from pains in their bodies.
How much do CPAP pillows cost?
You can avail CPAP pillow in between $30 to 75 dollars. It is essential to find a CPAP pillow that fits your needs because if it does not, you will ultimately get neck pain, and to adjust yourself, you will dislodge your mask. So it is a necessity to focus on buying the right pillow rather than choosing the inexpensive one. You can also avail a high-quality CPAP pillow on sale.
Can I wash my CPAP pillow?
You can wash CPAP pillows in a tub with some warm water and mile soap mixed in them. Although rather than washing pillows, it is better to wash the pillowcase daily. Some pillows are available with their pillowcase in the market. If you do not come with a pillowcase, don't worry, you can utilize an oversized standard pillowcase made of stretchy and soft material as the best choice. While washing the central of your pillow, squash out the surplus water and leave it to dry.
What is a CPAP nasal pillow?
Nasal pillow masks are customs of pillows that make a cover around the nostril area. A strip keeps the CPAP mask on, which generally goes around the back of the individual's head. This design is indeed the least offensive form of action against sleep apnea.
What are other pillow styles suitable for CPAP users?
Along with cervical pillows and pillows with cutouts for mask adjustment, CPAP users can also look for wedge-shaped pillows, and those with adjustable shredded foam will work sound for their needs. However, different CPAP pillows meet different needs, so you better ask your sleep specialist to help you suggest the right pillow according to your needs.
Is there a special pillow for CPAP users?
Yes, there are special pillows available for CPAP users. These pillows are called CPAP pillows. You can check out our recommendation list of best pillows for CPAP users to get the best CPAP pillow for yourself.
CONCLUSION:
Each product given in our recommendation list has been tried and tested. The sole purpose of suggesting the best pillow for CPAP users was to help you choose the right pillow for yourself. Although they can ask their sleep specialist which pillow they should go for, our list will help you know about each pillow in much detail.